DUO PLATE
The Ultimate Inflatable Hydrofoil Board with Unmatched Performance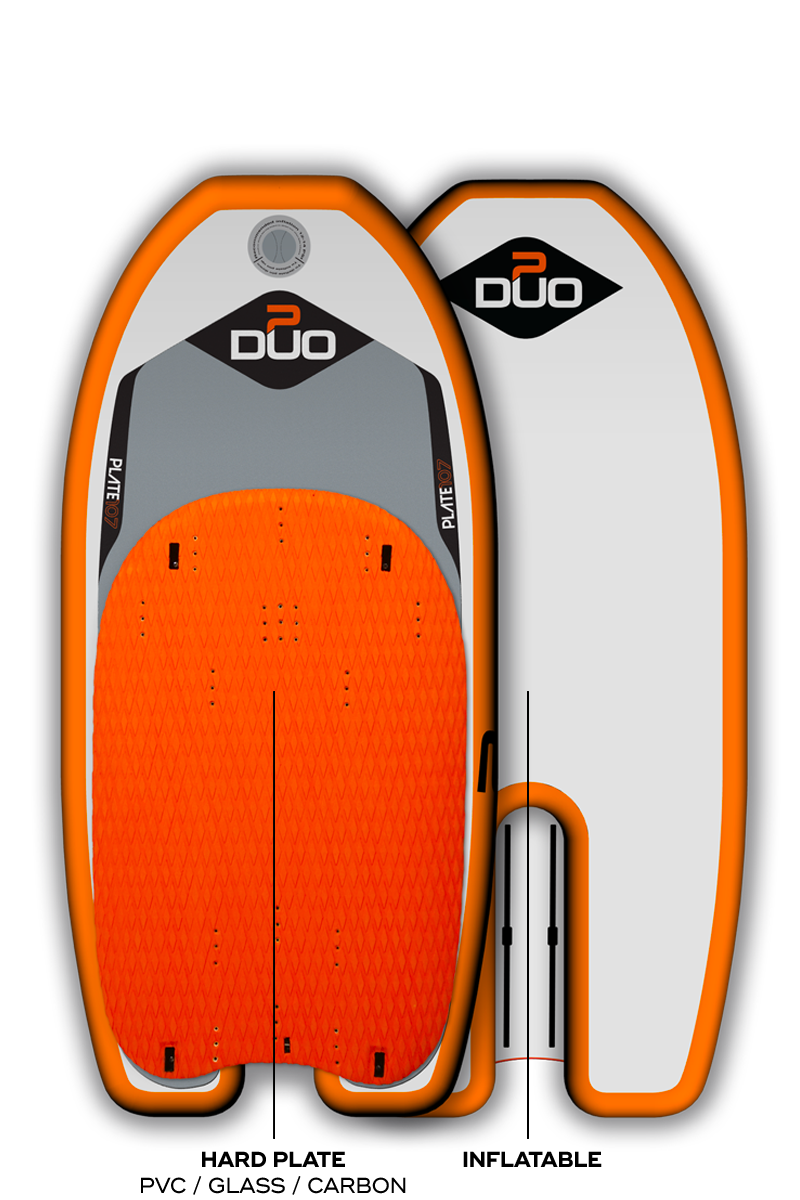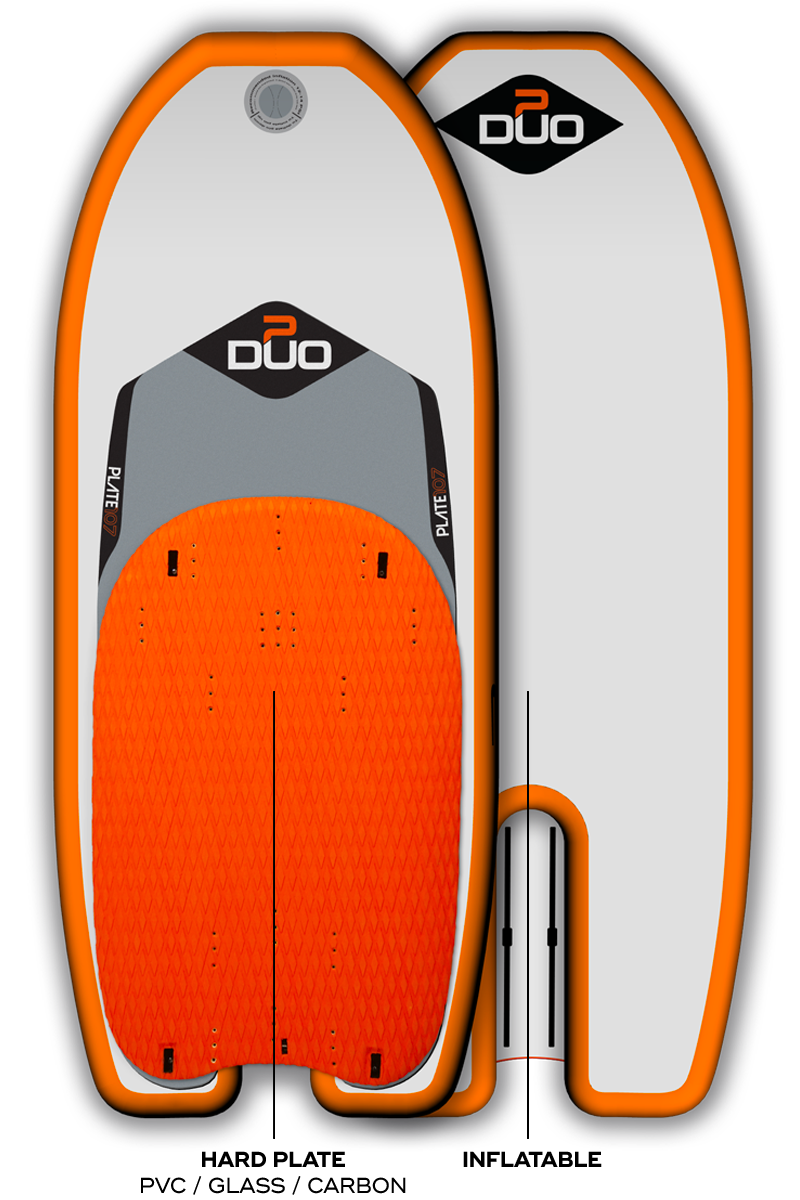 Experience the pinnacle of hydrofoil board riding with DUO Plate, a groundbreaking innovation that combines the convenience of an inflatable board with the unmatched rigidity and responsiveness of a full rigid board. Our patented design revolutionizes the way you ride, offering a host of benefits that set it apart from any other inflatable board on the market.
At the heart of DUO Plate is the modular composite fiberglass plate, expertly crafted to provide structural rigidity during foiling. This plate is securely connected to the deck, ensuring a stable and responsive surface that mimics the feel of a traditional rigid board. Say goodbye to the compromises of inflatable boards and enjoy the confidence of riding on a fully rigid and responsive platform.
Crafted from a molded composite PVC laminated with carbon fibers, DUO Plate boasts exceptional durability and performance. This cutting-edge construction technique, typically used for high-end fiberglass boards, guarantees a premium experience on the water. The board features footstraps inserts and special tracks that easily clip onto the inflatable section, providing a seamless connection for the hydrofoil via the 2 US Box tracks on the bottom.
What truly sets DUO Plate apart is the innovative U-shaped design of the tail area in the inflatable section. This feature allows the plate to slide effortlessly on different inflatable sections having different volumes, eliminating the need to disassemble the entire hydrofoil. This streamlined design not only enhances convenience but also ensures that the inflatable board remains compact and travel-friendly.
With DUO Plate, you can enjoy the best of both worlds. When fully assembled, you benefit from the portability and convenience of an inflatable board. Yet, as you ride, the rigid plate area provides unmatched rigidity, supporting your feet and evenly distributing pressure for optimal performance. It's a game-changer for hydrofoil enthusiasts who refuse to compromise on performance.
Unlock a new level of hydrofoil board riding with DUO Plate. Experience the perfect balance of convenience, performance, and rigidity. Embrace the future of inflatable hydrofoil boards and be among the first to own this revolutionary product.
Measurements:
| Model | Width / Height | Volume | Box Type | Sail Range |
| --- | --- | --- | --- | --- |
| DUO PLATE 87 | 152x72 cm | 87L | 2xUS Box 12" | 3.0/7.0 |
| DUO PLATE 107 | 178x74 cm | 107L | 2xUS Box 12" | 4.0/8.0 |
Features:
Composite board performance with inflatable transportability travel friendly.
Hardboard riding feel with great stability.
Extremely easy freeride foil board with soft landing and no nose-dives.
Foil set-up with 2 x 12" US box. All inserts are included in the moulded plate section.
Footstraps inserts in the moulded plate section
Easy transport and reduced storage efficiency.
Airplane standard check-inn bag size allowance.